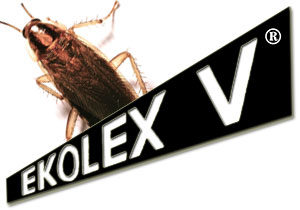 Characteristics
Ekolex-V is adhesive trap used for entrapping cockroach species of the family Blattidae – Oriental cockroach (Blatta orientalis) and German cockroach (Blatella germanica). The trap is effective for detecting, indicating and monitoring the occurrence but it is also a pest control solution for these kinds of insects.
Active substances
The active substance of the adhesive layer consists of the specific mix of food attractant and sexual and aggregation pheromones.
Effect
A vault-shaped trap is covered on the inner side with a glue containing attractant. The crawling insects are lured not only by this substance but also into the artificial hideout represented by the vault-shaped trap. The onset of effect comes almost instantly. More specimens are caught, more aggregation pheromones are concentrated. As a result, the displayed traps are highly effective.
Instructions for use
The trap needs to be arranged in a geometric shape by peeling off protective foil from sticky base and forming an aperture. Ekolex-V must be laid down or hanged on the straight surface with its flat side.
Warning! Keep out of reach of children!
Exposure time
The onset of effect comes almost instantly. The exposure time is 1 – 3 weeks. Quick filling with insects or use in areas exposed to dust may shorten this period.
Health and safety requirements
Ekolex-V adhesive trap is a highly effective and species-selective, environment-friendly, non-toxic and odourless product. It has no negative impact on non-target animals or humans. Nevertheless, the trapped insects may be carrier of pathogenic germs. Therefore, it is necessary to respect basic hygiene rules: refrain from smoking, eating or drinking while removing used traps and wash hands after handling. In case of contact with the surface, remove glue with benzine.
Waste disposal
Municipal waste or disposal by incineration.
Storage and Packaging, Dispatch, Size
The product must be stored in a dry place, up to 20 o C, in its original packaging. The expiry date can be found on a protective foil. Size of unwrapped unfolded strip: 310 mm x 80 mm. 5 pcs in a plastic wrap, 50 pcs per pack, 2000 pcs per carton. Carton size: 280 x 490 x 270 mm. Approximate weight per 1000 pcs: 13 kg.
Manufactured by: VETOX spol. s r. o.